Art Night With Texas Painters and Professional Artists Ken and Pam Arthur
Sometime in the summer of 2000, Ken and I decided to have an "Art Night" on Saturday evenings. We grabbed our cocktails, went to our studio (the garage), and began a fun time of creative collaboration. Over the years, my sons, Gardner and Tanner, and their friends have joined us for "Art Night"---adding music and cooking to the evening of creativity.
For our first "Art Night" piece, Ken wanted to use objects he picked up on his walks around our neighborhood in the hills of West Austin. His pockets and hands came home full of treasures: bits of barbed wire, one raccoon skull with a bullet hole in its forehead, the back bone of a deer, various nails and screws, discarded metals that had developed good patinas from the Texas weather, a stainless steel grip, pieces of wood, and on and on. He loved his finds.
While working on our first piece, we filled our minds with thoughts of what the Texas hill country had been---an ocean floor, the home of dinosaurs and prehistoric animals walking on soft limey mud, and how the oozing mud under the blistering Texas sun dried to a land of white chalky limestone, becoming a harsh place to live, where what grows has to be strong and stubborn, and where men fight over water. Then in the midst of our creating and past reflections, a space shuttle flew across the U.S. to Florida, passing over Austin. From our roof we saw it---a golden streak stretching over the nighttime sky. By the time we got into our home to turn on the TV, the space shuttle was in Florida, preparing to land. Awe-struck, Ken and I tried to honor that magnificent feat in our story of the Texas Hill Country.
Our "Art Nights" began, for one reason, because I had just retired from another life---high school English teacher, grad student in philosophy, and co-founder of a private, college-prep high school in Austin, Texas: The Griffin School. That other life had consumed me, and now, in retirement, I didn't know what to do with myself. (Ken didn't know what to do with me either!) I knew I better start something else and keep myself stimulated. Already at 55 years old, time was galloping along. I turned to art. (A good decision because Ken was an accomplished artist---he could, and did, teach me a lot.)
Two Early Art Night Paintings: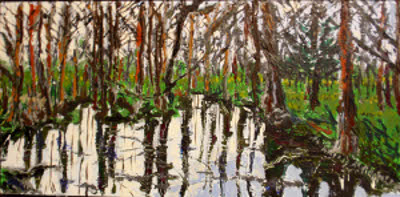 And Years Later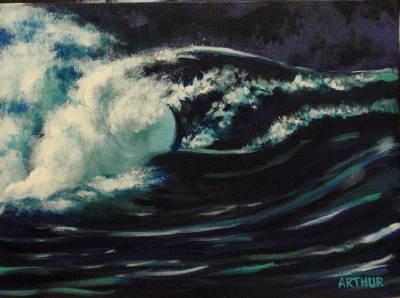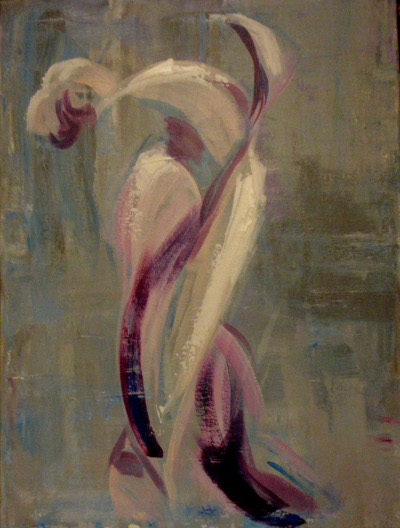 Today, "Art Night" still in session: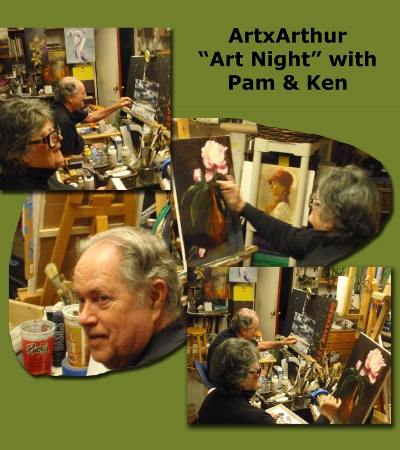 We never tire of painting together---side-by-side or crossing over the "dividing line" to each other's easel. While we each have our unique style, we aren't shy about helping the other when one of us knows the other is in trouble! Like, just when I think I am finished with a painting, Ken usually points out the fallacy of my thinking---and on occasion I help him enhance (maybe find!) his focal point.
Our original works come in a variety of mediums and subjects---listed below.
Original Oil and Acrylic Paintings
Subjects of Paintings by Ken
Landscape paintings
Cityscape paintings
Nature paintings
Ocean paintings
Still Life paintings
Figure paintings
Subject of Paintings by Pam
Still Life paintings
Fashion paintings
Floral paintings
Mixed Media paintings
Collaged paintings
Abstract paintings
Sculptures by Ken
Bronze sculptures
Aluminum sculptures
Steel sculptures
Mixed Media sculptures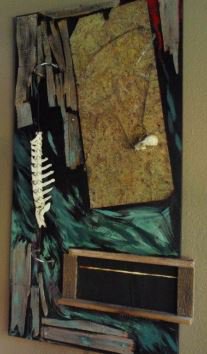 Space Shuttle over Texas Hill Country
Mixed Media on Board, 62" x 32"
by Texas artists Ken and Pam Arthur
For more original artwork by Ken and Pam, visit www.etsy.com/shop/artxarthur