About Texas Painter and Artist, Ken Arthur
From the time I could hold a pencil, I made art----the childhood drawings of dinosaurs and other wonderful monsters.  On Saturday mornings, my brother, David, and I sat at the kitchen table, listening to the radio, and drawing---for hours.  Then in elementary school, one of my buddies and I drew birds of prey like hawks and eagles and "other" birds of prey like fighter planes --- fighting each other or swooping down on their prey such as rabbits--or soldiers.  That got the attention of the little girls---squealing at our "horrible" depictions.  I liked that---all the attention and being able to draw so well.

I got the attention of my family as well.  Mother would frame pieces of my work and hang them around our home.  My grandparents gave me an art book for my eighth birthday.  I grew up with encouragement to appreciate art. So, when my wife asked me to explain why I painted landscapes even though I had just explained my love for the outdoors because of its varied beauty and its harmonious ordering, I was stumped.  I thought I had answered that question.  She explained that some people would be satisfied with a photo of a particular place or the memory of it, maybe even a journal description ---but why would I paint it.

That was a question I had never asked myself because drawing and painting were second nature to me.  They were something I had always done without giving them a thought.  I loved doing art---I felt happy and calm and proud when I would draw or paint.  My feelings talked that way, and I never questioned the process. When I got bored in the grade school classes, I drew pictorial maps of my grandparents' home on the Bayou because remembering the oak tree we climbed or the butterflies we chased---or the snake grandpa ran after---kept me entertained which kept me from falling asleep and getting in trouble with the teacher.   In adolescence, when all the confusing feelings popped up, I turned to oils and began painting still life and landscapes.  For me, the process of producing art is calming, satisfying and gives me a sense of accomplishment. 
I began learning the art of sculpting as an older artist. My sculpture pieces are more abstract than my paintings. I have done a series of small steel pieces based on the ancient Japanese art of Ikebana (arranging plant materials to symbolize heaven, man and earth). Also, I did a series of steel masks based on actual African pieces. A third style of sculpture I worked on was large outdoor mixed media pieces, composed of wood, cattle bones, metal objects, wires, etc. With these projects I was able to borrow from my architectural background.
For a recent art exhibit's advertising (EAST 2016) I offered the following statement which sums up all I have been saying: "I like to paint landscapes because Nature excites me---its beauty and its danger---inclement weather, snakes, sharks, glorious sunsets, deep woods. As a former architect, I enjoy problem solving and the art of construction which both painting and sculpture provide."
My only regret: I'm not one of the Rolling Stones!
Education and Other Art Information
Stanford University: 
A.B. degree in Art and Architecture (1967)
The University of Texas at Austin:
Bachelor of Architecture (1969)
Bachelor of Fine Arts (Studio Art) (1993)
Austin Community College:
Associates Degree in Welding Technology (Art Metals) (1998)
Practiced Architecture until retirement in 2006.

Began shifting focus from Architecture to Art in mid-1990s.
Works of art have been sold through various museums, art galleries, juried shows, and many exhibits throughout Texas.  A commissioned painting, Turn on the Lights (Battle of the Philippine Sea, WW II) is permanently housed at The Admiral Nimitz Center in Fredericksburg, Texas.  Other paintings and sculptures are in private collections of individuals and corporations, such as the Austin law firms of Vinson & Elkins and Fulbright & Jaworski. 
East Austin Studio Tour Artist Participation, 2014, 2015 and 2016
Click to enlarge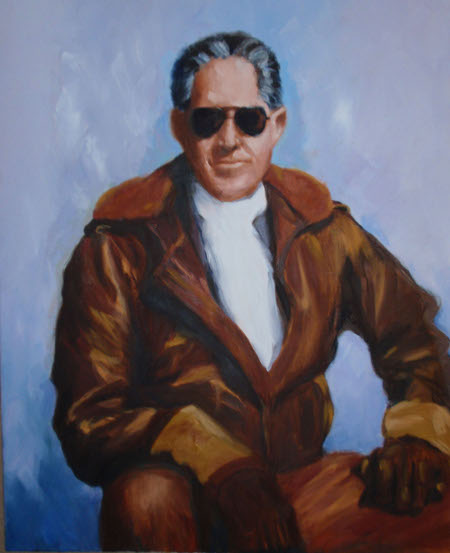 The Artist by Pam Arthur (Artist's wife).
Comments and Endorsements
"Ken Arthur II, already a mini-master at thick oils on horizontal boards, expands his repertoire with paintings such as Red Sea which reduces red-brown waves into segmented folds."
Michael Barnes
Austin American Statesman
June 16, 2001
Re: AVAA Exhibit at Ramirez Gallery
From Art @ Large:
"…your artwork, McKinney Falls, was chosen as one of seven finalists in the competition…outstanding achievement since 52 art works were submitted by 30 artists."
Vanessa Ronsonette, Executive Director
February 1, 1996
From Brad Bradford, December 29, 1997:
"Ken, have been to Nimitz some 5 or 6 times this year (1997). Have enjoyed pointing your painting out to many. And to think that I have one by the same artist on my wall!"
"Ken, your work is magnificent! Best Regards, Morton" Krumholz
From Sara Kennedy and Mark Fries, May 2013:
"…your (sculpture) gift was the absolute best of all!" and on December 6, 2015, "…Ken's artwork. It is stunning!!"
From Mark Miller, August 2015:
"…impressive…great craftsmanship…great subject matter…Bravo!"
From Bruce Arthur, September 2015:
"Kim and I are thrilled with the Frankford Church drawing."
For more original artwork by Ken, visit www.etsy.com/shop/artxarthur